The benefit of travel hacking
Travel internationally is expensive. Flying with a baby internationally, which often takes more than 12 hrs on the plane, can be really tired and stressful in an economy cabin. A business cabin, however, can be extremely expensive ($4,000-$5,000) if you purchase it with your "hard-working" money. I have been using hundreds of thousands of miles to redeem award tickets for 9 years, including the economy and business awards internationally. I always use miles to fly back to Kaohsiung, Taiwan, my home town for less than $100. As I am in the game longer, I gradually prefer flying in a business cabin, especially with a 6-month-old baby.
The goal of this article is to share with you how to book a business award for less than $100. I am showing you an example of booking a business award from Boston, US (BOS) to Kaohsiung, Taiwan (KHH). The same technique can be applied for booking any flights from the US to Japan/Asia.
What is travel hacking
Travel hacking is getting free flights, hotels, and train tickets by collecting frequent flyer miles and hotel points. It sounds hard to collect hundreds of thousands of miles by flying, but you can get them by responsible spending from credit card sign-up bonus. You don't need to fly to earn hundreds of thousands of miles.
How to get started with travel hacking?
Decide where you want to go. Yes, your destination.
Decide which airline you want to fly. Once you decide where you want to go, you will narrow down the flight you want.
Decide which frequently flyer mile you want to use to book your award flight.
Decide which credit card you want to apply.
Search the availability and book the award flight.
Let's dive into each step.
Step 1. Decide where you want to go
This is the easiest step! I am using Boston, the US to Kaohsiung, Taiwan as an example.
Step 2. Decide which airline you want to fly
Once you decide the place you want to go, I use google flight to check which airlines are flying that route. Below is an example. I search Boston to Kaohsiung, Taiwan, business, Sep 24- Oct 24, 2019. The fare is $4947. The first couple of options are JAL/American and Cathay Pacific.
Step 3. Decide which frequently flyer mile you want to use
You might think if I want to fly JAL, of course, I would use JAL frequent flyer miles to book an award flight. Yes, you are right. However, JAL miles can be hard to accumulate without flying. I use American airline miles (AA) or Alaska airline miles (AK) to redeem the JAL award flight because AA miles and AK miles are much easier to collect without flying. For example, I can use 140,000 AA miles or 130,000 AK miles to redeem a round-trip business flight from BOS to KHH. How do I know?
AwardHacker is a good tool to find the best award flights. Go to the AwardHacker, filled in your departure and arrival information, date and cabin. You will see the best award flight is JAL with 1 stop. You can redeem that flight with 110,000 JAL miles or 130,000 AK miles or 140,000 AA miles. Why I can use different airline miles to book the same flight? Let me explain.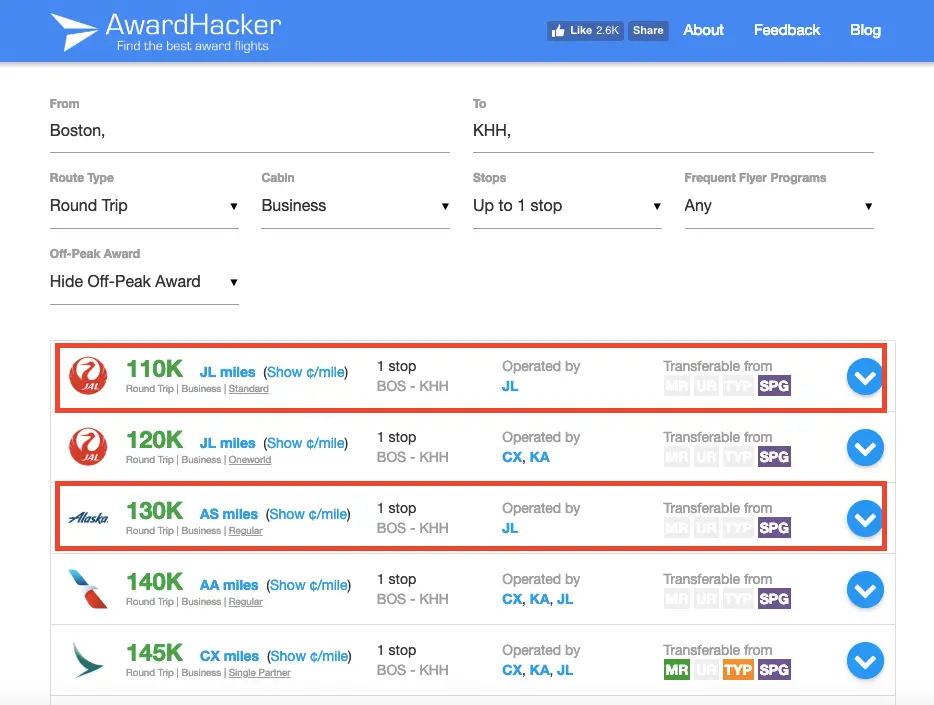 There are three major airline alliances, Oneworld, Star Alliance, and SkyTeam. JAL and Cathay Pacific are members of Oneworld. Oneworld members include:
American Airlines
British Airways
Cathay Pacific Airways
Finnair
Iberia
Japan Airlines
LATAM Airlines
Malaysia Airlines
Qantas
Qatar Airways
Royal Jordanian
S7 Airlines
SriLankan Airlines
You can use the frequent flyer miles from one airline to redeem the award tickets to any of the member airlines listed above. For example, American Airline miles can be used to redeem Japan Airline flight and vice versa. Therefore, let's think about which airline frequent flyer mile is much easier to collect. This will help you decide the credit cards you want to apply.
Step 4. Decide which credit cards you want to apply
I live in the US and I can earn American Airline and Alaska Airline through credit card sign-up bonus easily. For example, Citi and Barclays both offer credit cards that earn American Airline miles (AA miles), see below.
Citi® AAdvantage® Platinum Select® card
Earn 50,000 American Airlines AAdvantage® bonus miles after $2,500 in purchases within the first 3 months of account opening. Annual fee $99, waived for the first 12 months.
CitiBusiness® AAdvantage® Platinum Select® World Mastercard®
Earn up to 60,000 American Airlines AAdvantage® bonus miles with 50,000 bonus miles after $3,000 in purchases within the first 3 months and 10,000 bonus miles after a total of $10,000 in purchases within the first 12 months. Annual fee $99, waived for the first 12 months.

AAdvantage® Aviator® Red World Elite Mastercard®
Earn 60,000 bonus miles after making your first purchase in the first 90 days and paying the annual fee $95.
If I apply for all three credit cards, I need to spend $5,500 total to meet the spending requirement and $95 annual fee to get 160,000 AA miles, which is enough for 1 round trip business BOS-KHH flight or 2 round trip economy BOS-KHH flights. If you can plan this spending on car insurance, grocery shopping, holiday shopping, paying utility, and buying gift cards for future spending, this earning can be lucrative. This is how I travel almost free (just paying the airport tax) for 9 years. Similarly, you can also apply for Alaska Airline credit cards to earn a large number of miles.
Mad Fientist created a good tool to check which credit card earns which airline miles. For example, it will show you that three credit cards earn AA miles (either directly or through the hotel points transfer) when you click "American Airlines". Some hotel loyal programs allow you to transfer hotel points to airline miles, but it is usually not very lucrative. As you can see below,  you can convert 100,000 Marriott points to only 33,000 AA miles. Although you will earn 5000 more airline miles when you transfer 60,000 Marriott points. At the end of the day, you only get 38,000 AA miles by transfer 100,000 Marriott points. If you only need several thousand of miles to redeem a free flight, and you already applied for all the best credit cards. This might be a better option than spending $1 to earn 1 mile.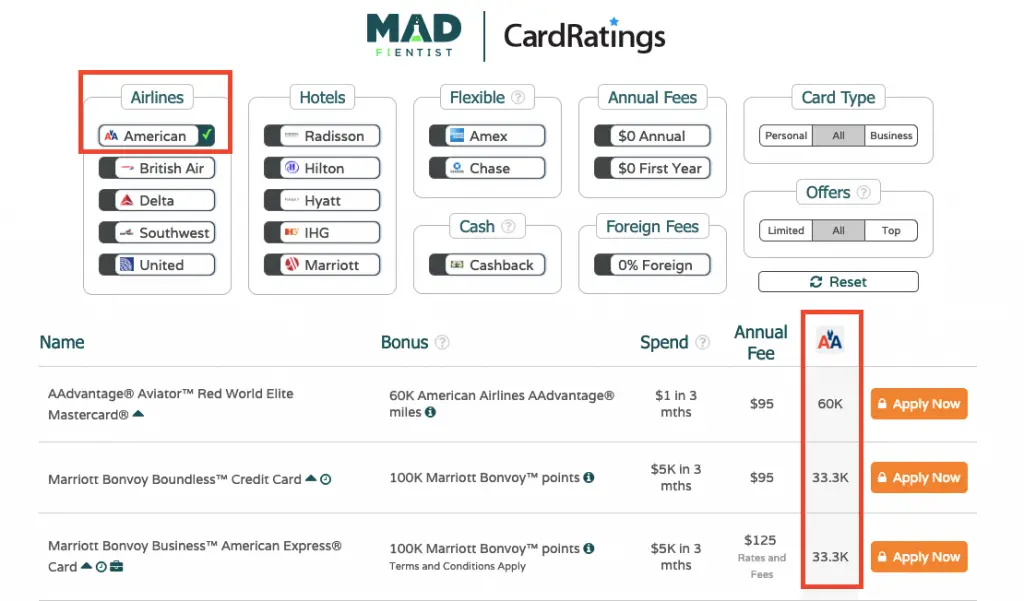 Step 5. Search the availability and book the award flight
Finally, it's time to book the award flight. First, we need to look for availability. There are limited seats for award tickets for each flight. The earlier you check the date, the better chance you will see the availability. So when do airlines open their award calendar? Many airlines open their availability 330 days in advance. "One mile at a time" has a detailed list of the days for each airline.
How to check the availability of Japan airline? Of course, you can use the Japan airline website, which is not easy to use. Sometimes they do not make space available to all partners because I am going to use AA mile or AK mile to redeem the award flight. I like to use Alaska airline website to search the availability. Here are the steps. First, check "Use miles" box, and enter your departure, arrival city, and dates.
Then, check the "View by Calendar" or "View by Schedule" and click the different date. You will see there is a partner business award available for 65,000 AK mile plus $33 tax on Sept 24. Same process for looking for the return flight.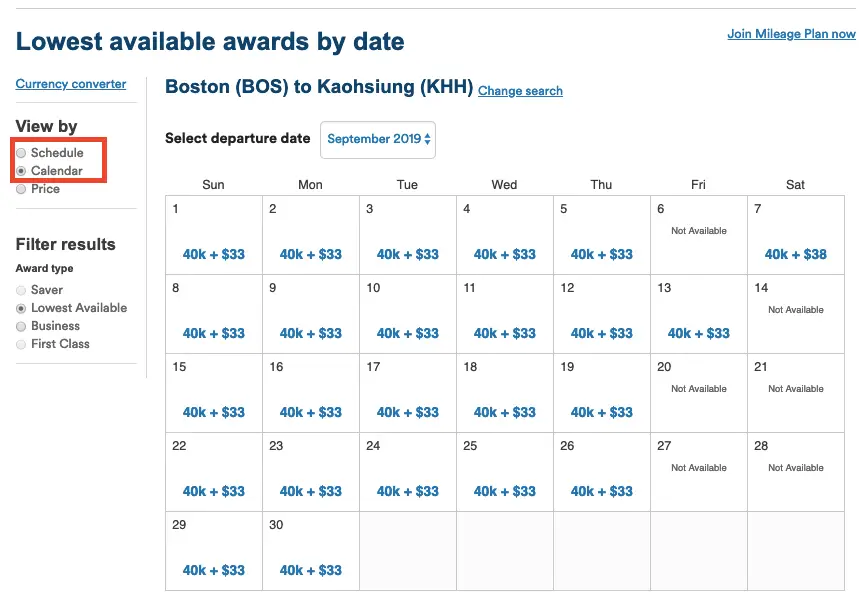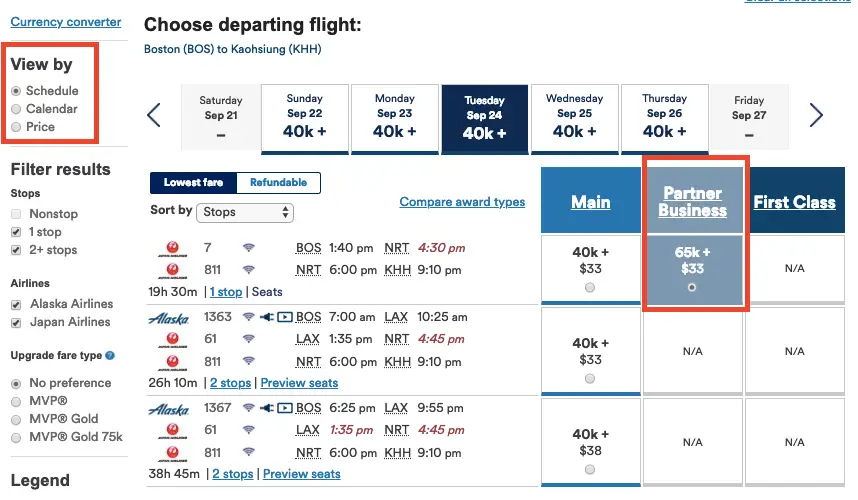 After checking the availability, we have two options:
1. If you want to use AK miles, you can directly book online.
2. If you want to use AA miles to redeem the award flight, call the AA award booking phone number 800-882-8880. Write down the date and flight number and give them to the agent. If you speak Mandarin Chinese, call 800-492-8095. You can save lots of waiting time. (update 080421, now you can book JAL award flight on aa.com)

We can redeem the same award flight using different frequent flyer programs. What is the difference between using AA miles and AK miles? AA requires more miles than AK, but it has less tax and more flexibility to change the date. Besides, AA miles are much easier to get and you can hold the award ticket for 5 days when booking with Ameican airline.
| | | |
| --- | --- | --- |
| | AA miles | AK miles |
| Total points required | 140,000 | 130,000 |
| Tax for BOS-KHH round trip | $66.31 | $93 |
| Award changing fee | No fee for changing the date, as long as the origin and destination are the same. $150 for cancellation and get back the miles. | $125 for change and cancellation |
International infant award travel fee
Most airlines for the infant award will require you to pay cash. Some airlines require 25% of adult fare such as Cathay Pacific, and some airlines require 10% of the adult fare such as Japan airline. Based on my personal experience, a business class fare on the google flight was listed at $4,957. I thought that 10% of $4,957 is $495,70. However, after I called American airline/Japan airline to reserve an infant fare, I will be paying $719.53 by using "revenue" fare.
Here are some supplies available onboard

Bassinets
Reservation required. Not all seat is good for hanging the bassinets. I was told that 9G is suitable for bassinets for flight JAL 7 and JAL 8; 1A is good for flight JAL 811 and JAL 812. The weight limit for bassinets is 10.5 kg. Dimension (length: 72 cm, width: 30 cm and depth: 15 cm)
Disposable diapers
Reservation required
Changing table
Baby/infant meal
Reservation required
Strollers
Free, no reservation required
Update[6/25/19]
Alaska airline has a new rule for the lap infant on partners' award (Nov 2018):
Lap infant ticketing: We are no longer able to guarantee that lap infants will be accepted with your international partner award ticket.
Until further notice, Mileage Plan members will need to book seats for infants at the standard mileage rate on international partner award bookings. For travel wholly within the US, or wholly on Alaska Airlines, standard lap infant policies apply.
Here are some discussions from TPG.
Tips for Success in travel hacking
Plan early. Most award availability opens 330 days in advance.
Be flexible. Most awards are available in the shoulder and low season (March-May and Sept-Nov), not the summer and holiday season.
The last thing you need to know about travel hacking
Start planning today!! It is a wonderful way to fly business class on a long transpacific flight. Comfort is a top priority especially when you have a baby flying with you. All you need to do is to follow my step-by-step guide and you can just spend very little money to fly comfortably.
If you find this post is helpful, please share it with your friends and family.